If you haven't been taking advantage of social media as part of your real estate digital marketing strategy, then you are missing out on what could be a huge boon to your real estate business.
But a lot of realtors don't take full advantage of social media because it feels like a daunting task. They ask themselves, "Where do I begin? What do I do? Is this really going to even help my business that much?"
There are many ways that you can utilize social media, even starting with baby steps. And the process really isn't that daunting.
How to Utilize Social Media in Your Real Estate Digital Marketing
Why You Should Be Using Social Media in Your Real Estate Business
There are dozens of successful marketing techniques for you to choose from, so why should utilizing social media by one of the first thoughts in your mind as you plan your digital marketing strategy?
Sendible Insights wrote a great article on how powerful a tool it can be when real estate agents utilize social media in their businesses, "
"…44% of homebuyers use the internet to look for properties first. That's right—people are heading to the online world, rather than traditional real estate offices or referrals from family and friends, to look for their new home.
"You can't target this huge chunk of people if you're not making your real estate company visible when they are online.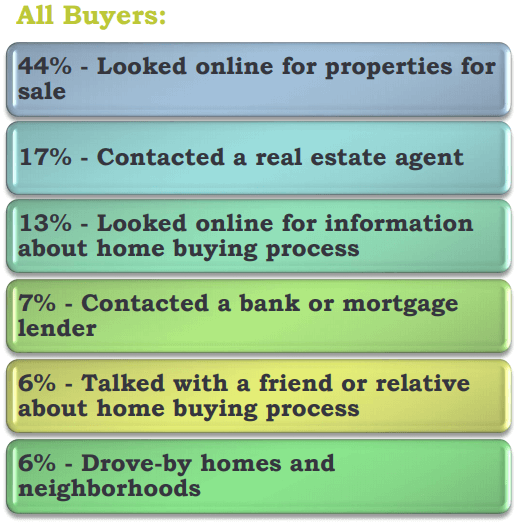 "Plus, 66% of new homebuyers are millennials—the largest chunk of any age range.
"There are currently 76.8 million millennials using social media in the U.S. alone, making it the perfect place to promote your real estate services, and catch people who're actively looking to purchase a new property."
9 Ways to Successfully Use Social Media for Your Real Estate Business
Now that we've touched on the impact there can be when you utilize social media can have on your business, the next question in your mind is probably, "So what am I supposed to do now? What is my next step?"
Here are 9 ways that you can successfully utilize social media that are easy, effective and you could literally start doing right now.
1) Create Content That's Tailored to Your Target Audience
A post, link, photo, or tweet on your profile may look good to you, but if it doesn't resonate with the people who are following your page, it means very little.
Make sure to create content that adds value to the people who are following you. Give them information that is important and valuable to them, and they will continue to follow you and many of them will become recurring clients.
When you utilize social media, it's more about listening than it is about talking. Pay attention to what people are saying about you and your brand. Gather feedback through informal polls or via free survey services like Survey Monkey or Google Forms. This will help you make sure that each and every piece of content you share on your social media reflects the interests of your clients.
2) Chat with Your Followers
In today's internet age, home buyers expect instant responses to their questions, and they are asking those questions online.
Home buyers are calling real estate agents much less than they used to with their questions. Instead, they're going online, using Facebook's Recommendations feature, and tweeting at real estate offices on Twitter.
Be ready for this type of outreach so you can answer them promptly. Use their questions as an opportunity to start a dialogue with followers who might be in the early stages of the buying process.
3) Optimize Your Profile
As you work to utilize social media more, make sure your profiles are filled out properly.
It might sound obvious, but you'd be surprised at how many real estate companies overlook this aspect of their social media accounts, especially if they've recently moved offices or changed their phone number.
For each platform you're using, add your:
Contact details
Address
Profile photo
Website URL
That way, if your target audience is looking for a way to get in touch, enquire or simply learn more about your business, the information is there for them. We all love convenience.
4) Use Video Marketing to Showcase Your Properties
The same article by Sendible Insights says, "97% of marketers say video has helped increase user understanding of their product or service, 76% say it's increased sales, and 76% experienced more support queries after using video in their strategy….If that's not an excuse to use real estate video in your social media campaigns, I don't know what is.
"But while you might already know how to record, upload and promote basic video content on social media, you'll need to adapt—and test new video formats—if you want to make your content a success.
"For example, you could do:
A series of Instagram Stories to show the interior of a property they're selling (remember these expire after 24 hours unless pinned to an Instagram profile).
A Facebook Live video at one of their open house events.
A Snapchat Story which encourages their followers to take part in a property Q&A.
A YouTube video which explains the step-by-step process of buying a house.
A 360 post to give their audience a full, 360-view of the property."
5) Share Local Content
Most of the people viewing your properties are going to already be in your area. And even if they aren't and they're looking to buy a new house, they're most likely going to be looking into the area before committing to moving there.
That's why you should utilize social media by sharing content that local people would be interested in. Sharing content like local events, news and information on local property changes can set you apart from your competition.
46% of Americans use social media as a news source, so contributing to the local social world is a fantastic way to get in front of your target audience.
6) Participate in Local Online Communities
Facebook Groups, for instance, are a great way to connect brands with local people since it's the biggest social media platform in the world.
Over 1 billion people use at least one Facebook Group, which means that there's bound to be a bunch of your ideal clients using one, too.
Local neighborhoods even use Facebook Groups to swap information and stay in touch. That makes it the perfect place to start chatting with potential customers and building your reputation in the area.
Find these by searching "LOCATION + neighborhood" in Facebook search, and hitting the Groups tab.
7) Promote Your Reviews
Did you know that 62% of online home buyers said they're more likely to contact an agent if they have amazing reviews?
If you're struggling to generate leads through your current marketing strategy, let reviews, testimonials, and words from happy customers take the forefront on your profiles.
You can share your clients' reviews by retweeting them to your company's Twitter profile, sharing their video testimonials to their Instagram story, or by having them fill out the "Review" tab on your Facebook page with a glowing 5-star rating.
8) Use Hashtags
Considering that hashtags have the potential to improve brand awareness, it's a small tweak that you can make to the content you're already posting and see great results!
Start to introduce these links by including a combination of branded hashtags and generic hashtags.
Branded hashtags are designed to be used by your real estate company and followers, i.e. #RightMoveTips.
Generic hashtags are used by anyone with a shared interest, i.e. #JustListed.
It's good to use both kinds of hashtags because branded hashtags build your following and generic hashtags allow you to reach people who might not see your content otherwise.
9) Schedule Your Content in Advance 
Your time is valuable, and you don't want to waste it. Every spare hour you spend on creating social media posts could be better used on meeting potential buyers and sellers. So how do you balance all of that and uping your game with your social media strategy?
The answer is: schedule your content.
You can save time and effort by spending a couple hours on a Monday morning planning your real estate content, rather than 45 minutes per day, or worse, whenever you realize, "I haven't posted anything in a while".
Scheduling social content in advance means you're better prepared and aren't rushing to keep your account active. You can do this through websites like Buffer and HootSuite.
Getting your social media game on point doesn't have to be overwhelming. Just take it in baby steps, and remember that it is definitely going to pay off for you when you utilize social media the right way.
Please follow and like us: